Third-Party Nutraceutical Medicine Manufacturer in India- The demand for Nutraceutical drugs has increased in the past few years. This market is blooming and those companies who invest in this segment are making huge profits. When looking for optimal solutions, Tanishka Pharmaceuticals has always strikes a good strategic deal with clients across India. We aim at meeting the different demands of clients owing to different dosage segments that one might be looking for a Third-party Nutraceutical Medicine manufacturer in India. Set up in the excise free zones of Himachal Pradesh, you enjoy world-class infrastructure, modern state of art manufacturing facilities and best quality control affairs.
When looking for a genuine manufacturing company, you can always trust Tanishka Pharmaceuticals. Our company is an ISO accredited third-party manufacturing which brings you all the healthy and fine quality products. Best drug solutions are offered which are approved by DCGI. Expert guidance has been taken while developing each drug. Tanishka Pharmaceuticals is the best Third Party Nutraceutical medicine manufacturer in India. Here you will get efficient strategic business plans for your company which looks for quality, quantity, and professionalism.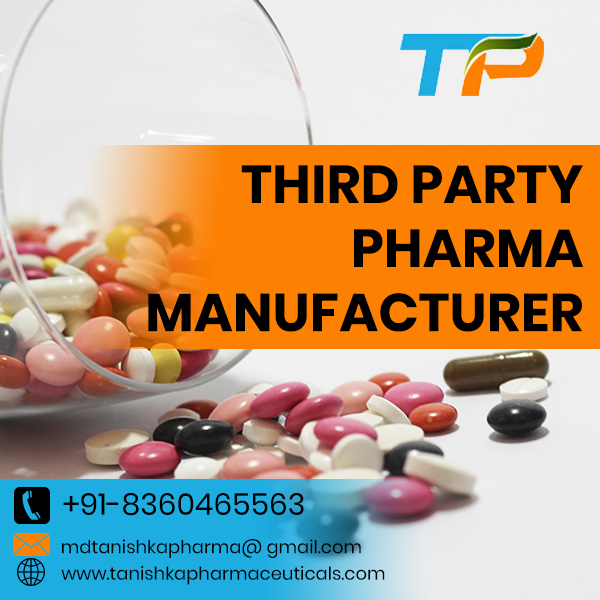 To inquire about the manufacturing services and facilities at Tanishka Pharmaceuticals, you can directly call us at +91-8360465563 or email your queries at mdtanishkapharma@gmail.com. If you want, you can even leave a comment in our inquiry box for details. We assure the best in the market at most reasonable deals.
India's Best Nutraceutical Medicine Manufacturer | Tanishka Pharmaceuticals
When it comes to the best Nutraceutical medicines manufacturing companies in India, Tanishka Pharmaceuticals has been a trusted name. Our company has tied up with several companies that have fully enjoyed and appreciated our services on the national platform.  We have been dedicated to our process to bring you quality, effective and durable drug dosage to meet your different requirements. Our formulations scientists help make the development of drug successful and useful for our consumers. Tanishka pharmaceutical has been very professional in manufacturing pharma product formulations that meet your frequent needs. The aim of the company is as follow:
The company also make sure that you get DCGI approved nutraceutical supplements
The pricing of Nutraceutical medicine for manufacturing is quite reasonable at Tanishka Pharmaceuticals.
Our company brings you budget-friendly and economic deals for huge orders.
We are punctual to our prescribed time for the delivery date.
You will be assisted in marketing tool manufacturing. We ensure the best designs and attractive look here.
Secrecy and professionalism is the biggest benefit here at Tanishka.
Scope Perspective of Nutraceutical Medicines in the Pharmaceutical Sector
There is a poised growth of Nutraceutical medicines in the pharmaceutical market. It was recorded that the Nutraceutical products have reached $ 184 billion in 2015 and are expected to reach $302 million by 2025 with a CAGR of 7.04%. This is all due to steep depreciation in the quality of the food products which lacks in Vitamins and minerals.
The Nutraceutical market has a substantial scope of growth worldwide due to an increase in demand. People are battling with disorders as all junk food is unhygienic lacking the protein, minerals, and vitamin. Also, nowadays old age people require these nutritional supplements. The nutritional supplements are beneficial for heart
Quality Standard Followed by Tanishka Pharmaceutical
Tanishka is known for its quality product because it follows the quality standard that helps them to deliver good quality drug formulations. Our Pharma medicines are made in self-owned modified WHO and GMP units. We follow every set of norms to ensure that you are getting the best quality without any compromise. A-grade ingredients, extracts, and materials are used in production. The company has the skilled manpower that helps them to do better development, production and meeting the requirements of quality. Our company follows a wide set of quality measurement like:
International standards laid by WHO and GMP are strictly followed
Eco-friendly environment to avoid spoilage and contamination
The expert team of Nutraceutical drug range is hired for research and development
Advanced devices are installed for quality control testing
Fine active ingredients are used to give you pure formulations
 Key Certification Tanishka Pharmaceuticals Holds for Nutraceutical Medicine Manufacturing
To work legally in the pharmaceutical sector it is important to get the required certification from the authorities. Here is the certification that Tanishka Pharmaceutical has got and thus considered best for Pharma manufacturing services and quality medicine:
Certified from WHO
License from GMP
Certified from DEA
License from FSSAI
Certified from ISO
Food supplement license
Certified from GLP
Contact us now to know more about our services for your company.
Contact Us
Name– Tanishka Pharmaceutical
Address– Vill: Nandpur, Lodhimajra Road, Baddi, Solan
Himachal Pradesh, India, 174101
Contact– +91-8360465563
Email– mdtanishkapharma@gmail.com