Third-Party Manufacturer company in Mumbai – Quality of the product depends upon its manufacturing and raw material used by a manufacturer. Companies flourish due to their product demand in the market. So it is important to have a strong base to go far. The manufacturing of the product needs to be in good quality in all aspects. There are various Third Party Manufacturer Companies In Mumbai. This sector is growing so rapidly that you need to be innovative and unique to compete in the industry.
Tanishka Pharmaceuticals is one of the leading pharma manufacturing companies in Baddi (Himachal Pradesh) that manufacture a wide range of pharma products on a third party manufacturing basis. The Company has been following the international quality norms to deliver the medicines, which are innovative, effective, pure and has accurate composition. We maintain the highest standards of quality; the products meet relevant Pharmaceutical standards and statutory requirements. We deliver the best quality of products at reasonable prices. There are several small- and large-scale pharma companies that are associated with us for third pharma manufacturing services. However, we are providing the Third-Party Manufacturer company in Mumbai too. The company has manufactured 1500 pharmaceutical products recently, which provides a major boost to their business venture.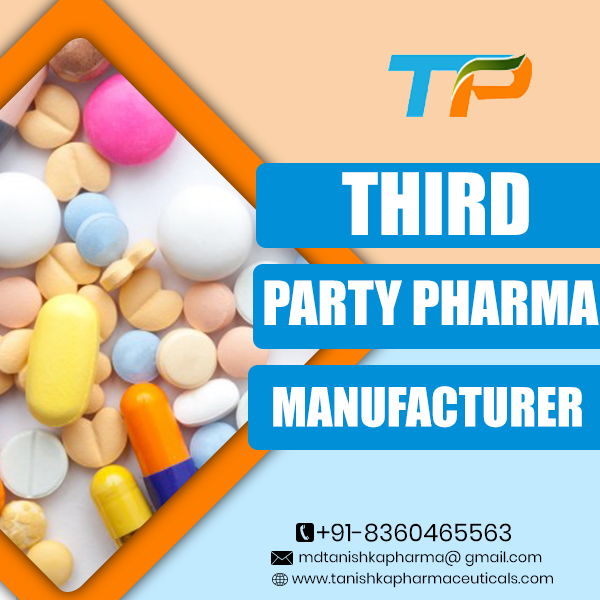 Feel free to contact us more information call at +91-8360465563 or email gmtanishkapharma@gmail.com
Why Choose us is the Best Decision?
Tanishka Pharmaceuticals is a licensed company, contains all the documents of WHO-GMP certification. GMP certification ensures that all the products which are manufactured in the production should match the WHO quality standards. This certification also ensures that the products do not contain any harmful ingredients and chemicals which are dangerous for health. The main aim of the company is to manufacture high-quality products for a healthier life. The company works on its core values. The company is renowned for its Contract manufacturing of pharmaceutical formulations as Tanishka Pharmaceuticals is India's largest research-based Healthcare Company.
Ensure to manufacture innovative products to save human lives and updated with the latest trends.
We have the best and advanced R&D department which continuously works for innovation.
Maintain the quality of the products by keeping a check on all manufacturing units.
Excellent labor to run the whole manufacturing production successfully.
Provide your best services under the guidance of highly knowledgeable and qualified researchers.
Having a large-scale manufacturing production unit to fulfill the needs.
Perks of Associating with Tanishka Pharmaceuticals in Mumbai
Tanishka Pharmaceuticals is one of the best leading Third-Party manufacturing service companies. Our company helps newly established companies to get a reputed position in the market. The manufactured quality products are provided to them for their selling in the market. Products qualitative packaging to its on-time delivery all the aspects are looked after by the company, to provide the best service. Following are few listed reasons that make our company the best third party manufacturer in the Mumbai-
All the raw material and ingredients for the manufacturing of a product are obtained from a trusted vendor which ensures the quality of our products.
The team of manufacturing units is well experienced and knowledgeable.
Production of all the medicines takes place in a well-furnished manufacturing unit.
Have sufficient manpower to run the whole production unit.
The company caters to customer satisfaction products to meet their needs.
Variety of Products we Offer at Tanmhsika Pharmaceutical
We serve to provide relief to mankind's sufferings and make medicines at an affordable price easily available. Our manufacturing company offers a variety of products to our clients which are given below-
Tablets
Syrups
Dry Syrups
PEAD/SYP/DROPS
Ointments
Multivitamins
Sachets
Protein Powder
Manufacturing Facilities Provided by us
Our whole manufacturing production is licensed by the WHO-GMP certification. It ensures that we are having the best manufacturing production in Mumbai. Choosing us as service providers will be worthwhile. We work for the welfare of human lives by manufacturing quality products. We have the availability of all the advanced and modern mechanisms which are required. The quality and quantity of drugs are checked by the authorities. We maintain a balance in our products which enhance their effect. The manufacturing unit comprises of few more amenities including certification from WHO-GMP –
QC lab, R&D analytical testing, and R&D manufacturing Facility.
FDA registration
DEA licenses (Manufacturing, Import, Export & Wholesale) We have clinical packaging and warehouse to carry our further activities after manufacturing medicine.
State licenses (Manufacturing and Wholesale)
Licenses (includes Schedules I-V)
Our Third-Party Manufacturer company provides all the best and high-quality products. We have sufficient manpower to work for small as well as large scale manufacturing production units. We promised to provide innovative products by delivering them on time without any fault. Our company is a well-established company in this industry to give a boost to your company by providing highly effective and superior products at a very pocket-friendly price. We believe to design the products for a better life and a better world.
Contact Us
For further queries and information regarding this, you can contact our team. This team will provide you all the necessary information regarding our business venture. Contact us today for the best business opportunity.
Name– Tanishka Pharmaceutical
Address– Vill: Nandpur, Lodhimajra Road, Baddi, Solan
Himachal Pradesh, India, 174101
Contact– +91-8360465563
Email– mdtanishkapharma@gmail.com