Third-Party Ayurvedic Products/ Medicines Manufacturer in India-Tanishka Pharmaceuticals is one of the reputed and known third party manufacturing company of ayurvedic products in India. The organization has GMP and WHO certified ayurvedic manufacturers. We provide top-notch ayurvedic medicines for the wellness of our customer, also our herbal products are available at affordable prices. Thus, we also take proper care of the quality and ingredients used for the manufacturing of ayurvedic medicines. If you are looking for the best contract manufacturing company then, Tanishka Pharmaceuticals, leading Third Party Ayurvedic Medicines Manufacturer in India is the right choice.
Ayurvedic medicines are used constantly by the people because it does not have any side effect. India is a birth giver to ayurvedic which is an old tradition used by the Buddhists. It is still practiced by modern people due to its effective results. Due to the rise in the demand for Ayurvedic products, many manufacturing companies have set up their units. So, Tanishka Pharmaceutical is one that is known for Third-Party Ayurvedic Medicines Manufacturer in India. The company offers a vast range of ayurvedic products with superior quality.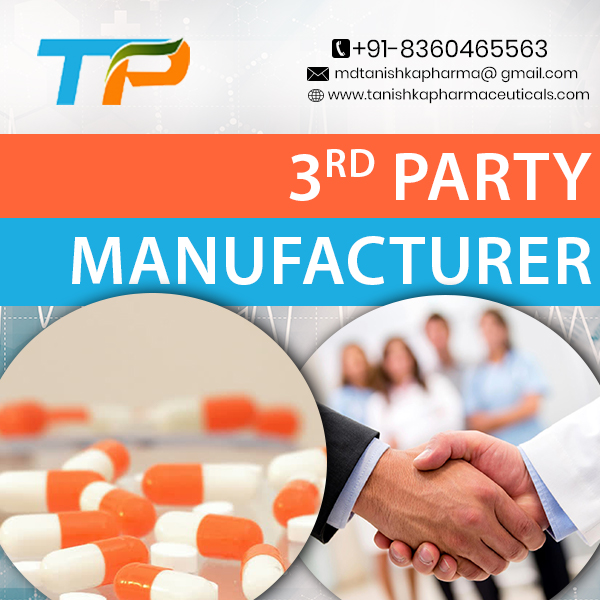 If you want to become a strategic partner of our company and want to know about the contract manufacturing or its amenities then you can call us at +91-8360465563 even you can contact us via email i.e. mdtanishkapharma@gmail.com
The privilege of Ayurvedic Medicines in the Pharma Market
Ayurveda itself makes clear that all the products are made from organic and pure plants and herbs. It helps the body to heal within a short period without taking any other medicine. In fact, 77% of Indian households make use of ayurvedic products. The market of the ayurvedic product range has a very bright future. This range covers up all the health problems from the skin to any serious ailment of the body. No, doubt India is the largest manufacturer and exporter of ayurvedic medicines range. Undoubtedly, ayurvedic products are regaining their popularity and relevance in India.
The pharma industry is expected to triple in size as ayurvedic medicines are becoming business. Thus, the popularity of the ayurvedic or herbal range has been spread across the global market which is evident from the growth of the products. Last year, the value of Ayurvedic products in the market stood at $4.6 billion which is expected to rise by $9.7 billion by 2022. Many Pharma companies have introduced themselves as a third party ayurvedic medicines manufacturer in India, by providing them the rich and finest quality of ayurvedic products.
Elite Third-Party Pharma Manufacturing Company for Ayurvedic Products
Tanishka Pharmaceuticals embrace all the pharma companies who are venturing for valid third party ayurvedic medicines manufacturing in India. We are the leading Contract manufacturing company dealing in ayurvedic products. Also, our company has an innovative state of the art manufacturing unit along with laboratories for trials of pharma products. Our Research and Development manpower is the backbone of our company who manufactures every product under WHO and GMP standards. Here are the features of our company which will help you in selecting us:
The first and foremost point is about our manufacturing unit, which has a large capacity for production with ease. Also, our team delivers the product quickly without making in delay.
Our quality control personnel is fully trained and experienced in manufacturing and analyzing the products.
The manufacturing process goes through every stage of stringent checking in order to provide you defect-free and effective ayurvedic products
Our organization formulates 100% assured and tested products of ayurvedic without any side effect
All the products manufactured by the company are DCGI approved
Moreover, the company has a large warehouse to store a large number of products
The manufacturing unit is maintained with fully sterilization and cleanliness
Quality Norms Followed By Tanishka For Best Manufacturing Facilities
The devoted and determined manpower of our company is fully involved in the formulation of the best and efficient ayurvedic products. The company acquires separate quality control experts who are delegated to monitor each and every product direct from sourcing of raw materials to dispatch. Our premises are equipped with a spacious warehousing facility where our products are kept safely. In addition to this All our products are packed by using the best packaging material to avoid any sort of contamination and spoilage. Here are all the quality standards we have vowed to adhere to:
GLP: We work with a team of experts who conform to using only the good Laboratory practices in coordination with the R&D sector.
GMP: We are a Pharmaceutical Company that works with the best quality sources so you can invest in a range of medicines that are made with purely Good Manufacturing Practices.
ISO: We work only on the guidelines and raw materials that have been approved by the Indian Standards Organisation for Drug Safety.
WHO: We are known to follow all the regulations of the World Health Organisation so as to link up with the best vendors and follow the very best distribution practices.
Logistic Network for the Prompt Delivery of Ayurvedic Medicines
Tanishka Pharmaceuticals really embraces and relies on its logistic team. So, along with quality the packaging and delivery of the products also matter. So, we have separate delivery and logistic department across PAN India which delivers all the products within the time frame. We are connected with the best network channels that assure us tight and leakage proof packaging and cost-effective delivery service. Our network channels are available in all over India covering the states like
Andhra Pradesh
Uttar Pradesh
Tamil Nadu
Kerala
Chhattisgarh
Rajasthan
Assam
Jharkhand
Manipur
Contact Us
Name– Tanishka Pharmaceutical
Address– Vill: Nandpur, Lodhimajra Road, Baddi, Solan, Himachal Pradesh, India, 174101
Contact– +91-8360465563
Email– mdtanishkapharma@gmail.com